For the first time ever, federal officials have added a North American bumble bee to the endangered species list.
The rusty patched bumble bee, or Bombus affinis, has dwindled rapidly in recent decades, the U.S. Fish and Wildlife Service said on Tuesday.
Historically, the pollinator spanned 28 states in the upper Midwest and Northeast, plus Washington D.C. and two Canadian provinces. Yet due to a handful of factors including the destruction of its native grassland habitat, disease, increased pesticide use, global climate change and intensive farming (which leads to a loss of crop diversity and flowering plants) the bee has only been spotted in 13 states and one Canadian province since 2000.
In terms of population and range, thats a decrease of around 90 percent in the last two decades, the Natural Resources Defense Council says.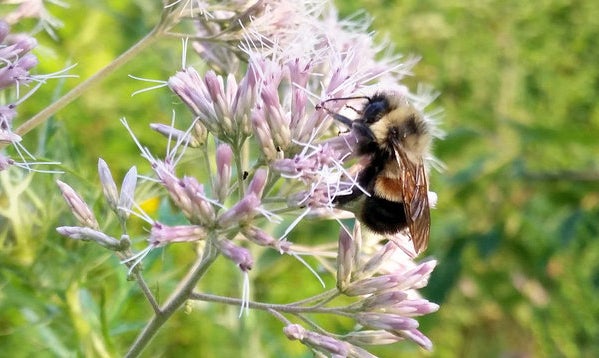 We are very pleased to see one of North Americas most imperiled species receive the protection it needs, said Sarina Jepsen, the director of endangered species at the Xerces Society for Invertebrate Conservation, in a statement. The Xerces Society petitioned the federal government to list the bee as endangered.
Now that the Fish and Wildlife Service has listed the rusty patched bumble bee as endangered, it stands a chance of surviving the many threats it faces from the use of neonicotinoid pesticides to diseases, Jepsen said.
Officials estimate the economic value of native pollinators like the bumble bee at close to $3 billion per year. Crops like blueberries, cranberries and clover rely heavily on bumble bees, the USFWS says, and tomatoes are almost exclusively pollinated by them.
Todays endangered species listing is the best and probably last hope for the recovery of the rusty patched bumble bee, said Rebecca Riley, a senior attorney with the Natural Resources Defense Council, in an email. Bumble bees are dying off, vanishing from our farms, gardens, and parks, where they were once found in great numbers.
Read more: http://www.huffingtonpost.com/